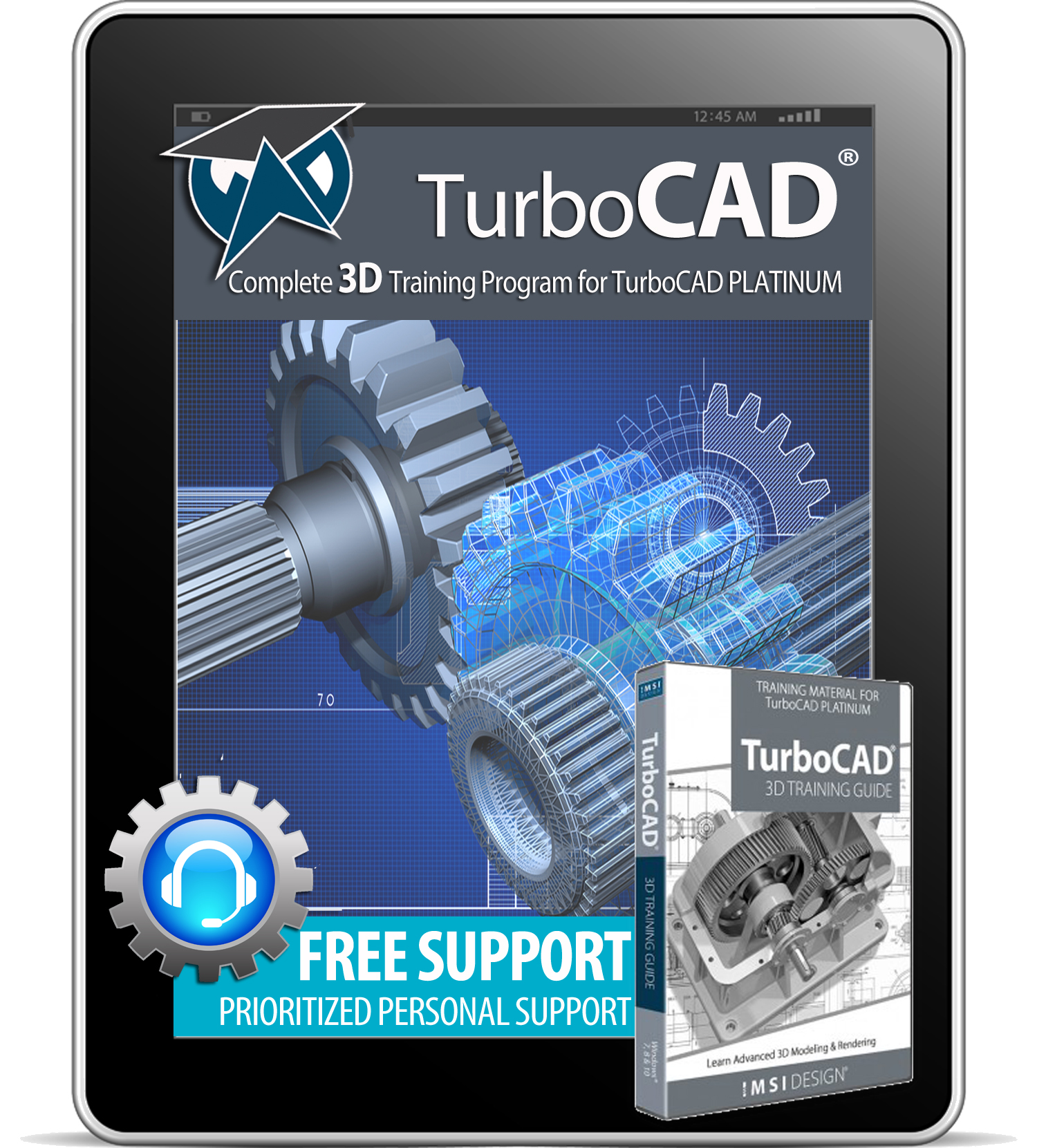 The complete solution to learning TurboCAD Platinum 3D.
Provides instantly downloadable training software & free optional access to our online portal for frequently updated content and a wide selection of Bonus Sessions and Quick Tutorials.
Connect and communicate with your personal tutor for speedy, professional support and expert technical advice.
All WorkSessions contain full audio-visual instructions for a start-to-finish learning experience. Learn from Home, from School, from College, from Anywhere.
UPDATED to TurboCAD v2021 but suitable for any TurboCAD user.
Pricing Information or Add to Cart
Use the form at the bottom of this page to contact us for more information.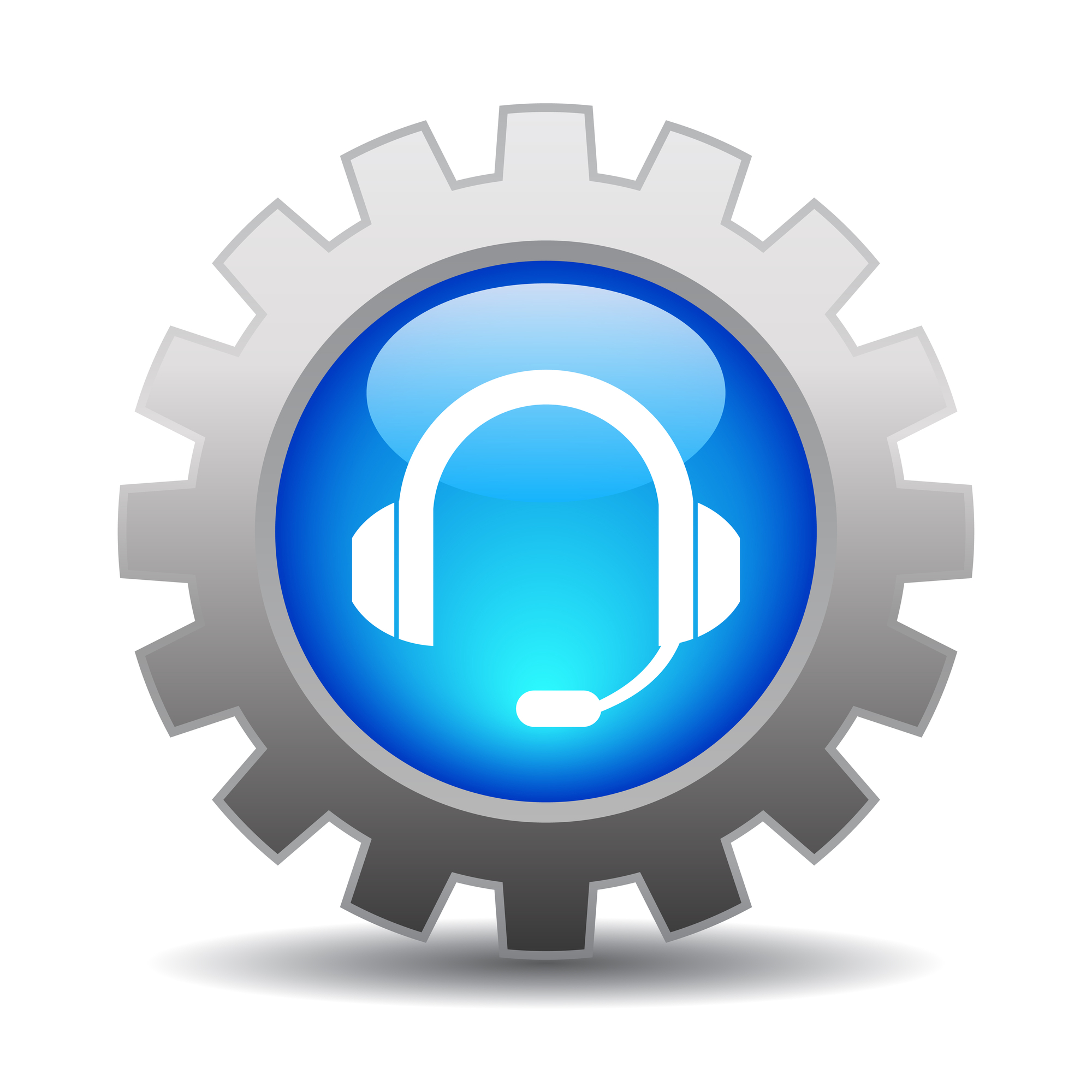 OVERVIEW
WORKSESSIONS
FORMAT
EXTRAS
ONLINE CONTENT
SYSTEM REQUIREMENTS
PRICING
The TurboCAD 3D Platinum Training Guide takes the user into another dimension and is recommended for anyone who wishes to progress from 2D sketching and drawing methods into real-world 3D models.
It offers 8 step-by-step illustrated and video-animated WorkSessions covering an extensive range of 3D-designed solids, all produced with multiple view, print-ready layouts.
Each Tutorial-based Session provides a complete start-to-finish video animation of each Task, allowing the user to understand each topic clearly.
The Easiest Way to Learn 3D Computer-Aided Design with TurboCAD Each Sessions contains detailed, illustrated and video-animated instructions of a design, using a sequential, task-based structure.
Each design uses the recommended component-assembly method of designing and constructing solids. Modifications to each part are updated in real-time using the Part Tree History.
All designs are started and finished in the same Session, allowing you to produce multiple view, print-ready layouts of your drawings.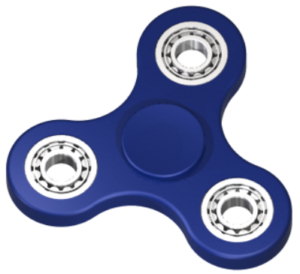 Some of the topics discussed and demonstrated in this Guide are :
A brief recap of the TurboCAD User Interface, Editor and Workspace Environment, including the Ribbon menu.
Setting up your design environment with frequently used Palettes such as the Design Director, Drafting Palette and Selection Info Palette.
A recap of frequently used 2D sketch and modification tools to assist with profile creation. Understanding Standard and Isometric Views, Workplanes and the User Coordinate System
Creating, modifying and extruding 2D open and closed profiles.
3D Primitive Objects such as Box, Rotated Box, Wedge, Sphere, Hemisphere, Torus, Cone, Cylinder, Polygonal Prism are discussed and demonstrated, complete with worked examples.
Profile-Based Objects such as multiple Extrusion methods, Lofting and Revolve tools are discussed and demonstrated, complete with worked examples.
Adding Threads, Holes and Sections to solids are covered in detail, with illustrated worked examples and video-animated tutorials.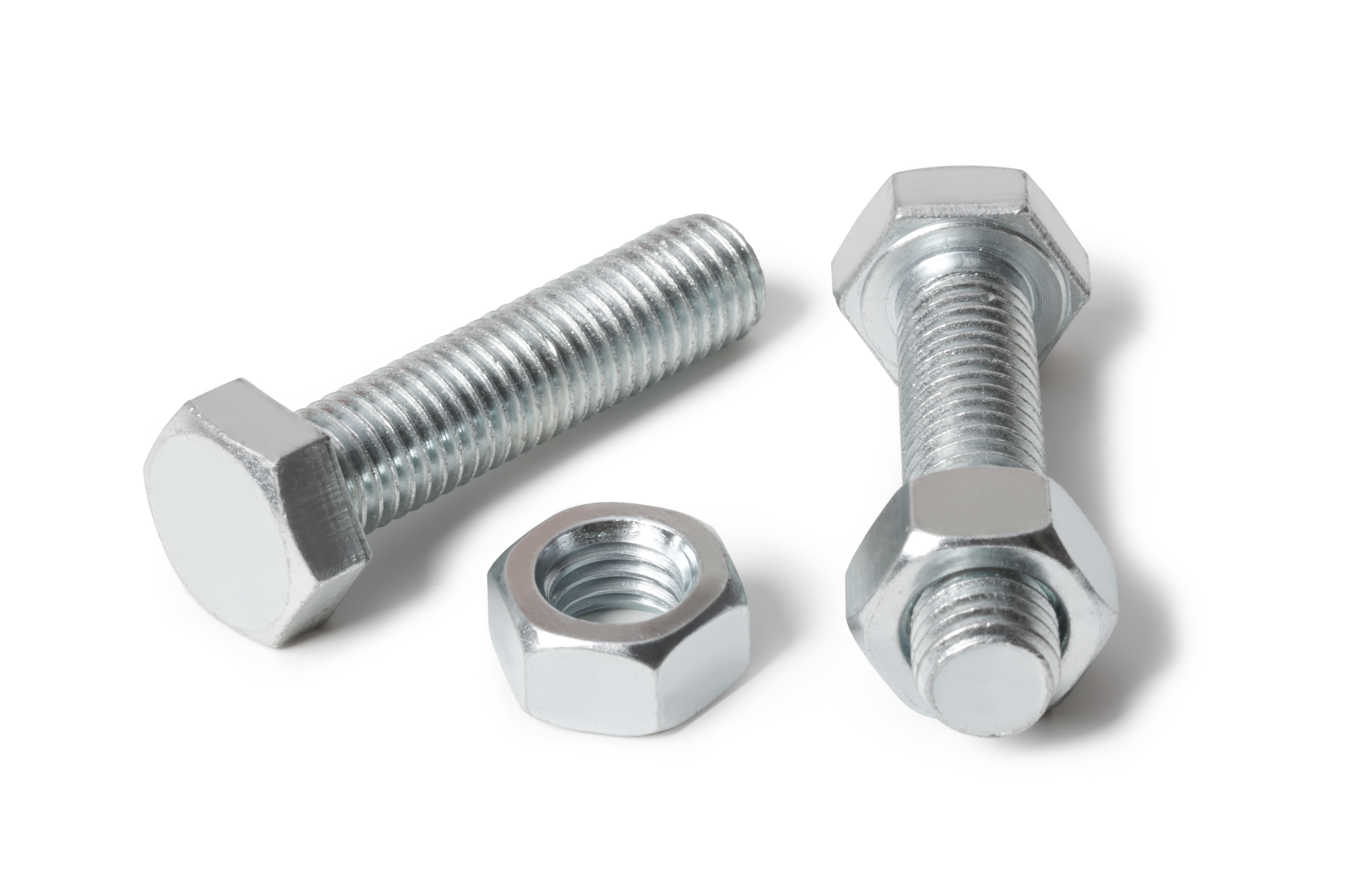 The Imprint tool is shown how to sweep a 2D profile through a 3D object, combining or subtracting the volumes of the extrusion of the primary solid.  Additionally, a block profile inserted from the Blocks palette is used as an imprint profile.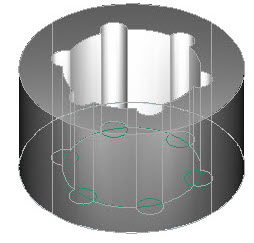 3D Boolean Facet tools are extensively demonstrated, allowing primary solids to be modified by the addition or subtraction of other solids.
3D Slice tools are also demonstrated, allowing the modification of solids by slicing by points, lines, surfaces or the Workplane.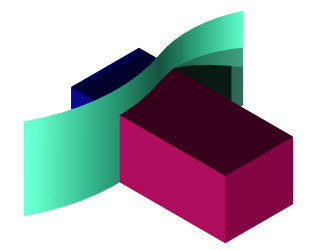 Parametric updates of solids are shown, demonstrating how the Selection Info palette is used to update the dimensional properties of objects in real-time.
Facet Editing tools such as Facet Editor and Facet Offset are used to demonstrate how facets of objects can be individually manipulated to reshape the solid.
A full range of Assembly tools are used to show how best to implement the recommended component-assembly method of 3D design. Worked examples are used on how to assemble by points, edges, facets, tangents and central axes.
Transitional surfaces created by 3D-Filleting and 3D-Chamfering are also demonstrated showing how material is either added or subtracted during modification.
The Shell Solid tool is also used to demonstrate how the interior or exterior wall thickness of a solid is either added or subtracted.
Advanced 3D modelling tools are demonstrated such as Deformable Modeling which demonstrates how facet deforming can be done by applying a uniform pressure load to the surface of a solid.
The concept of Sub–Divisional Modeling is demonstrated, showing how the Smooth Mesh function allows the fluid editing of faces, edges and transitional surfaces by sub-dividing the model into various levels.
Surface-to-Solid and Surface-from-Profile generation is explained showing the ease with which objects can be transformed from one state to another.
3D Scenes and Rendering  are included, demonstrating how to creates and add material properties to objects and set up lights and camera movements for scenes.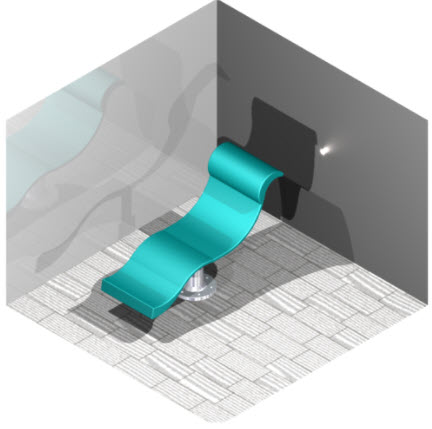 This Training Program can be downloaded directly to your laptop or accessed online from your mobile device for a convenient blended learning experience.
No internet connection is required to view this training program; it is installed locally onto your laptop.  An internet connection is only required to stream the video content.
All movies are provided in an MP4 format which is compatible with all browsers.

Free 'Introduction to TurboCAD 2D-3D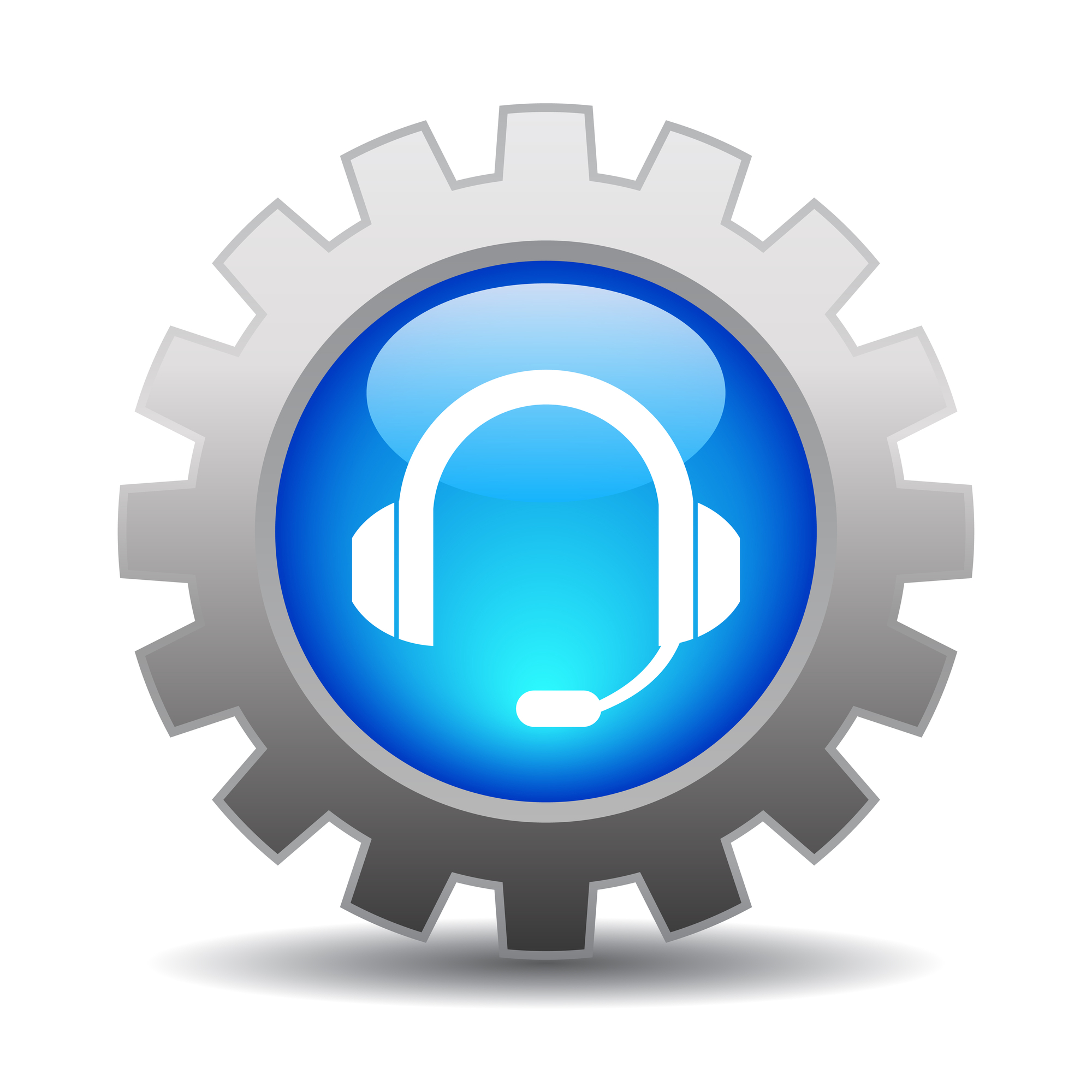 All our training programs are offered as downloadable or online courses.  Online courses provide the following additional features :
Access to your courses from any mobile device;
Access to updated content and new tutorials;
Free Bonus Sessions and Quick Tutorials are uploaded frequently;
Priority access to your personal tutor who will provide speedy, professional support to your queries, and provide assistance with your training.
Pentium IV Processor;
Internet Browser such as Chrome,  Fire Fox or Edge;
Microsoft® Windows;
Graphics & Sound Card;
Internet Connection for Video Streaming;
Speakers or headphones;
TurboCAD for Windows.
Approximate file size = 20MB
Please note :   Click the CURRENCY icon at the edge of the Product page to set the currency of your region.  Some rounding may occur due to currency fluctuations.