The complete solution to learning TurboCAD Platinum 2D.
Provides instantly downloadable training software & free optional access to our online portal for frequently updated content and a wide selection of Bonus Sessions and Quick Tutorials.
Connect and communicate with your personal tutor for speedy, professional support and expert technical advice.
All WorkSessions contain full audio-visual instructions for a start-to-finish learning experience.
Learn from Work, from School, from College, from Anywhere!
UPDATED to TurboCAD v2021 but suitable for any TurboCAD user.
Pricing Information or Add to Cart
Use the form at the bottom of the page to contact us for information on this product.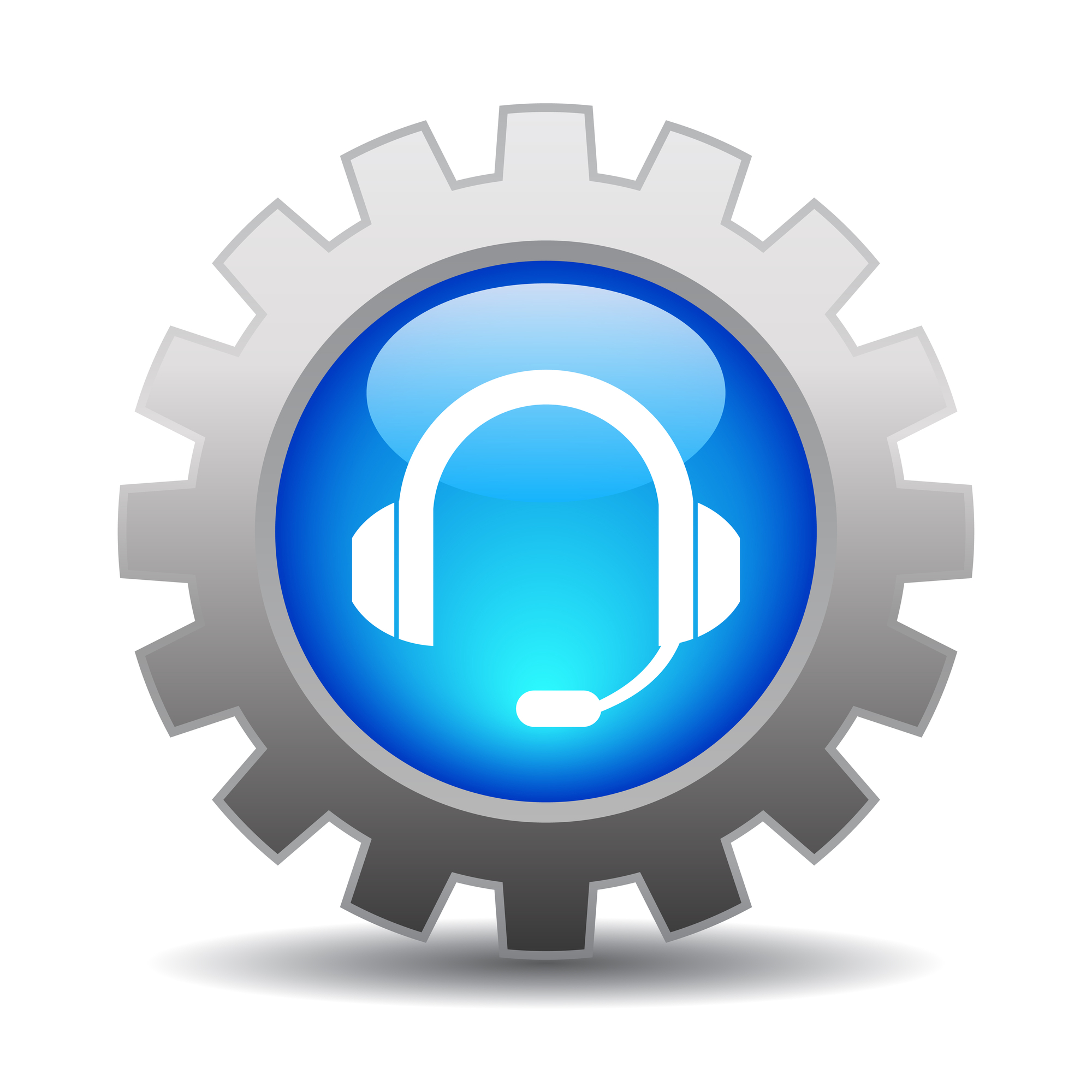 OVERVIEW
WORKSESSIONS
FORMAT
SYSTEM REQUIREMENTS
EXTRAS
ONLINE CONTENT
PRICING
The TurboCAD 2D Platinum Training Guide covers an extensive range 2D drafting tutorials specifically targeted for the TurboCAD Platinum user.
It contains a comprehensive break-down of tools used to efficiently create, detail, modify and annotate 2D drawings.
It offers 8 step-by-step illustrated and video-animated tutorials covering both technical and architectural designs so you can rapidly master expert-level techniques to complete your designs.
This training program is designed around a self-paced instructional basis with each Session providing detailed, highly illustrated and video-animated step-by-step instructions to complete each Task.
At the beginning of each Session, a Worksheet is provided which gives an overview of the commands used in the Session. A printable drawing and a TurboCAD drawing sample is provided for each session.
Each Tutorial-based Session provides a complete start-to-finish video animation of each Task, allowing the user to understand each topic clearly.
A comprehensive guide to frequently used 2D tools is also supplied, complete with worked examples.
Over 80 videos are provided in the 8 sessions to demonstrate each Worksession.
All you'll ever need to know about the TurboCAD tools used to construct ALL 2-dimensional drawings, including architectural tools.  Tools discussed and demonstrated during this session include :
Starting and setting up a new drawing | creating and saving a drawing template.
The Graphical User Interface | controlling and personalizing the appearance of your interface.
Graphical Information | Using the various Information Palettes.
Drawing Aids | Using Layers, Grids and Snap Modes for precision input and drawing control.
Sketch Tools |  All the tools you need to create your sketch geometry including Line & Radial Geometry, Curved Lines & Curves and Constraints.
Object Handling | Selecting, manipulating, duplicating and  modifying sketch objects.
Spatial Information | Coordinate drawing input and Measurement Information.
Annotation | Dimensions, Leader Arrows, Tolerances, Surface Roughness, Hatching and Text input.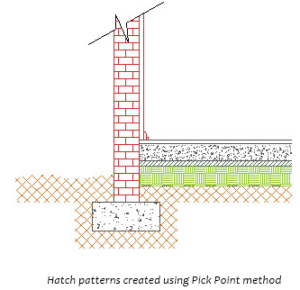 Formatted & External Objects | Includes Groups, Blocks and Libraries.  Also instructs on using Externally Referenced Objects.
Drawing Layout | Understanding Model & Paper Space layouts, creating & inserting variable scaled viewports & printing.
File Utilities | ePack, Print Queue and File Converter.
Drawing Utilities | Geo Location, Drawing Compare, Drawing Underlays etc.
Architectural Tools | Interior & Exterior Walls, Door and Window Tools, Drawing a Roof.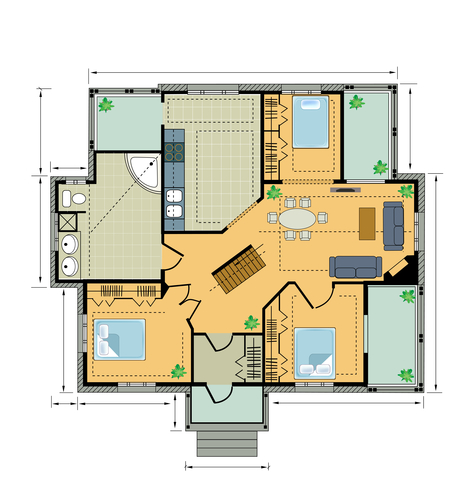 Over 80 videos are provided in the 8 sessions to demonstrate the activities being presented.
Each session begins with a task worksheet with specific instructions about the session. All sessions are single session, from start to finish, which means drawings can easily be completed in the recommended time frame.  Projects and practical sessions are also included so you can build your own projects from scratch.
Each Sessions contains detailed, illustrated and video-animated instructions of a drawing, using a sequential, task-based structure.
All drawings are started and finished in the same Session, allowing you to produce print-ready layouts of your drawings.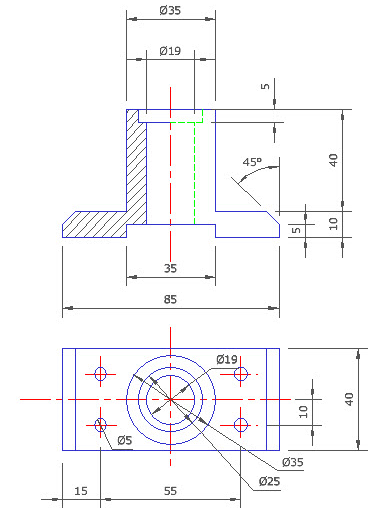 This Training Program can be downloaded directly to your laptop or accessed online from your mobile device for a convenient blended learning experience.
No internet connection is required to view this training program; it is installed locally onto your laptop.  An internet connection is only required to stream the video content.
All movies are provided in MP4 format which is compatible with ALL browsers.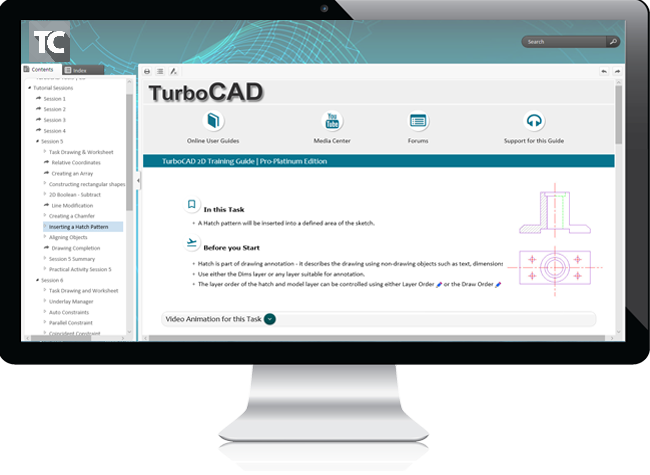 Pentium IV Processor;
Internet Browser such as Chrome,  Fire Fox or Edge;
Microsoft® Windows;
Graphics & Sound Card;
Internet Connection for Video Streaming;
Speakers or headphones;
TurboCAD for Windows.
Approximate file size = 20MB
Free 'Introduction to TurboCAD 2D-3D.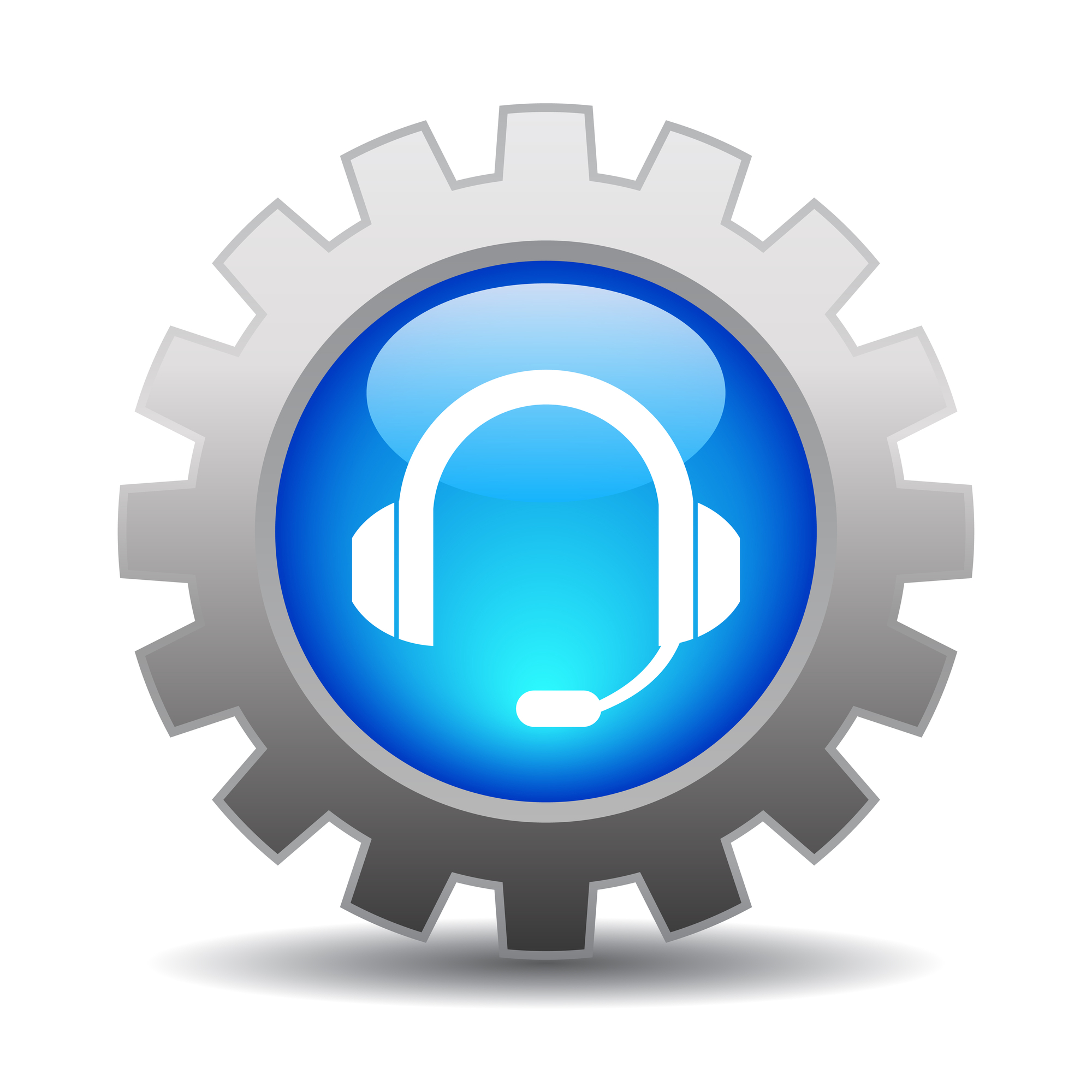 All our training programs are offered as downloadable or online courses.  Online courses provide the following additional features :
Access to your courses from any mobile device;
Access to updated content and new tutorials;
Free Bonus Sessions and Quick Tutorials are uploaded frequently;
Priority access to your personal tutor who will provide speedy, professional support to your queries, and provide assistance with your training.