TASK DRAWING & WORKSHEET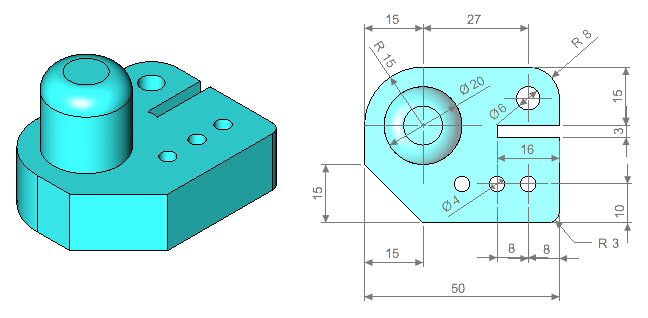 ---
RESOURCES
Click onto Materials above to download your resources for this session.
---
WHAT YOU WILL LEARN IN THIS SESSION:
During this session you will learn how to :
Use simple draw tools such as Rectangle, Parallel Line.
Create a blend on 90 degree lines using the Fillet tool.
Use basic modification tools such as lengthening a line.
Use the Snaps and LogiCursor to insert circles on centers and intersections.
Create Fillets and Chamfers.
Insert Dimensions and Center Marks onto the sketch.
INTRODUCING
The following tools will be used during this Session :
Rectangle
Parallel Line
Center Point Circle
Dynamic Extend
Fillet
Chamfer
Dimension Tools
Text
INFORMATION
These sketch and modification tools are used in the construction of most sketches.
The sketch geometry created in this Session will be used to build the model in the 3D Tutorial of this Session. Save your design at the end of the Session.
The sample drawing for this session contains the 2D Sketch and the 3D Model. Frequently, these 2 layers are superimposed. Use the Concept Explorer to control the display of the layers.
Create your own layers if you wish to produce the design from scratch or pan to an unused area of the editor
Downloadable Session Drawings can be found here.
ESTIMATED SESSION DURATION
Approximately 30 minutes drawing time. Total session duration may vary.
---

Download the sample drawing here.